Sir Chris Woodhead's successes and failures
Chris Cook
Policy editor, Newsnight
23 June 2015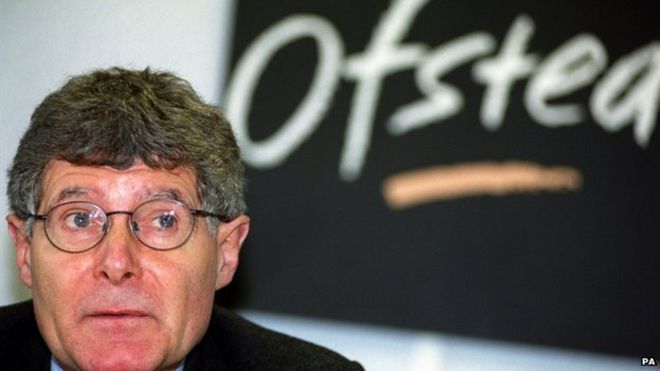 Sir Chris Woodhead
Sir Chris Woodhead, former chief inspector of schools, has died at the age of 68. A lot of young people have a lot to thank him for - part of the improvement in English education is the result of his tenure from 1994 to 2000. He reinvigorated the case for traditional teaching and he did so in an uncompromising style. But his personal behaviour meant that he was unable to build alliances. A less confrontational man might have picked fewer battles but won much bigger.
Mr Woodhead, as he was then, arrived as chief inspector in 1994 with little ceremony. He was appointed after an open application process by John Patten, a Tory education secretary. Looking back, he wrote: "I was chosen because I was an outsider - independent of the educational establishment". This is false memory. At the time, his arrival was not much noted. Most reports from the time simply note that the person asked to build up Ofsted, then a new body, was a man who had just been tasked with setting up a new curriculum body.
Indeed, it is hard to envisage someone more rooted in the so-called educational establishment. In 1994, he was best known - to people who knew him at all - as one of the three "wise men" who had sat on a primary education commission (he was the most argumentative of the three). Far from being an outsider, he was a former English teacher, teacher trainer, local authority official, local school inspector and curriculum official. Ex-pupils described him as a "trendy" teacher, prone to new teaching fads. He was, in short, a man shaped - above all - by the education system.
Changing the system
By 1997, however, he was his own man. His role was of national political importance. His writs were more widely respected than the ministers whose policies he enforced. The former "progressive" teacher became a firebrand fighting for traditional methods. He had turned the gentle school inspectorate into a fierce regulator. When New Labour took power in 1997, David Blunkett retained and then reappointed him as chief inspector because he was a visible guarantor that the new government wanted to be seen as tough on standards.
It is worth remembering his achievement: in 1995, a London school, Hackney Downs, was shut down after a protracted struggle. It was, the author of a report into the school's failures argued, not worth trying to save. Professor Michael Barber (later knighted) argued that the "few" who wanted to keep the school open were united in an "alliance for inadequacy". Prof Barber, now an adviser to Pearson, the education company, argued that failure should "no longer be tolerated" in the state system. None of these sentiments sounds that jarring to us in 2015.
But at the time the TES, a teachers' newspaper, responded to this by calling it
the "murder" of a school
. Prof Barber's proposed fight-back against weak performance, the newspaper argued, "begs enormous questions about the nature of state education, the meaning of success and failure". This intervention against a dismal school was "not sympathetic euthanasia but premeditated murder by the Government with an instrument of its own creation." This verdict sounds absurd to us today - our attitudes are a legacy of Sir Chris' hard edges. He left a system where failure is not acceptable.
I have written before that I am concerned that the English school system has reached a point where
further pressure on teachers and head teachers may now be counter-productive
. But the opening up of schools to regular scrutiny has helped England's poorest children, and the new Ofsted agency he helped to establish was a major part. School leaders have, for the most part, risen to the challenges made to them by regular inspections. The big question about Sir Chris's record is whether he could have done better were he a little less abrasive.
Could he have done better?
I think the answer is "yes". For example, look at Sir Chris's feud with Sir Tim Brighouse, then the head of Birmingham's school system. It was almost poetic, in that the two men were opposites: Mr Woodhead liked to wield a stick to push teachers on. Prof Brighouse preferred the carrot. So it was intensely irritating to the Ofsted chief that Birmingham schools improved markedly under Prof Brighouse's leadership. The relationship became poisonous enough that inspectors have told me that Mr Woodhead sought to amend Birmingham inspection reports to make them look worse (the chief inspector always insisted this was just "quality assurance").
The two men should have been allies: Prof Brighouse moved on weak teachers in Birmingham. Later, working in London, he set schools uncompromising targets. But Prof Brighouse led and persuaded. He didn't hector. And so Sir Tim both has a formidable record as an education reformer and retained the respect of teachers. He grasped that, when the classroom door shut, the teacher was in charge and so they could ignore you if they were not sold on your plans. Sir Chris's tool to control what happened in the classroom was the threat of the inspectors' knock on the door.
The result of that wasted energy and those missed alliances was not just that Sir Chris was less effective than he might have been. He also made what could have been dry, professional, technical debates into needless schisms. He made teachers feel put-upon and disempowered. Many teachers wore his disapproval as a badge of honour. And Sir Chris revelled in being disliked. He left a lot of burned bridges that have yet to be rebuilt. Sir Michael Wilshaw, his current successor, never even got the benefit of the doubt with thousands of teachers.
So Sir Chris Woodhead changed English schooling forever in ways that were unforeseeable in 1994. He opened debates and raised expectations. But you can't help feeling that with all that intelligence, energy, rebelliousness, ambition and drive, he could done even more if only he had sought to make a few more allies, persuade a little more and command a little less.
http://www.bbc.com/news/education-33244072
----
Sir Chris Woodhead, Ofsted chief - obituary
Chief Inspector of Schools who was the scourge of 'trendy' teaching and became an advocate of medically assisted dying
Sir Christopher Woodhead, who has died aged 68
, led the charge for a return to traditional teaching methods as HM Chief Inspector of Schools and head of Ofsted between 1994 and 2000, both John Major and Tony Blair reckoning him a political asset. After he was diagnosed with motor neurone disease in 2006, and later with cancer, he became an advocate of medically assisted dying.
Starting as a "progressive" teacher of English, Woodhead metamorphosed into a scourge of "trendy" teaching methods, which he blamed on corrosive thinking in the teacher training establishments, which he described as "the real heart of darkness".
He challenged the orthodoxy that smaller classes brought better results, and called for a return to whole-class teaching and the abandonment of "child-centred learning". He insisted that phonics, not "learning by discovery", was the best way to teach reading.
Woodhead identified underachievement by white working-class boys as a particular problem, observing: "State education fails too many bright children from disadvantaged homes." In his view, disruptive behaviour – which became a national issue in 1996 with the disintegration of the Ridings school in Halifax, where his inspectors said senior staff had "lost the will to bring about improvement" – was the result of poor teaching.

Chris Woodhead visiting Davenant Foundation School in Essex in 1998 (Martin Pope)
Asserting that he was "paid to challenge mediocrity, failure and complacency", Woodhead was viscerally opposed to the control of schools by local authorities. Most controversially of all, he claimed that in England's state schools there were 15,000 incompetent teachers (a first inspection of 2,862 schools detected just 88) and 3,000 heads. His traditionalism appealed to the Prince of Wales, whom he talked out of starting his own teacher training college. But his assaults on sacred cows and his almost Messianic tone infuriated the teaching unions – the NUT campaigned for his removal – and many educationalists (whom he castigated as biased and second-rate). Tim Brighouse, chief education officer for Birmingham, led the resistance, accusing him of launching a "reign of terror"; Woodhead replied that you did not necessarily get the best out of teachers by praising everything they did. When Brighouse claimed that one head had been driven to a breakdown by a school inspection, Woodhead accused him of capitalising on personal distress to discredit Ofsted.

Chris Woodhead witth Gillian Shephard at a press conference in 1996 (Eddie Mulholland)
Woodhead came to the fore as chief executive of the National Curriculum Council as Kenneth Clarke was putting through the 1992 Education Act which created Ofsted. His arrival at Ofsted coincided with the appointment of Gillian Shephard, a former schools inspector, as education secretary, and they worked closely together to raise standards.
In the process Woodhead became a bête noire not only for the teaching unions but for Old Labour. It was assumed in the party that he would be one of the first casualties of a Labour victory, but Blair took a shine to him and – to the fury of the party's educational establishment led by Roy Hattersley – announced at the start of 1997 that a Labour government would keep him on.
David Blunkett as education secretary went some way with Woodhead's agenda, urging him to challenge under-performance in schools, but it was Blair's decision, not his, to renew his contract in 1998 with a 34 per cent pay increase. Yet by the time Woodhead resigned in 2000, Labour ministers were not sorry to see him go; they had become resentful at the head of a government agency appealing over their heads to public opinion.

Chris Woodhead at an Ofsted press conference in 1995 (Paul Grover)
His situation was undermined by disclosures from his ex-wife in 1999 that he had left her and their baby daughter 22 years before for a sixth-former at Gordano school, Portishead, where he was head of English. Woodhead insisted that he and Amanda Johnson – with whom he lived for nine years – had only begun their relationship after he left for a new job in Oxford, but former colleagues disputed this.
Woodhead, a risk-taker whose passion was rock-climbing, had himself opened up the issue by telling trainee teachers that while relationships with pupils were regrettable, they could be "experiential and educative on both sides". He apologised when his remarks became public, but then his ex-wife broke her silence. When the National Association of Head Teachers demanded a criminal inquiry, Blunkett accused Woodhead's opponents of a "vile campaign" to hound him out.
Christopher Anthony Woodhead was born at Cockfosters on October 20 1946, the only child of an accountant and a school secretary. From Wallington county grammar school – where he was caned twice for insolence – he failed to get into Oxbridge, reading English at Bristol University, then taking an MA at Keele.
He taught briefly at his old school, then in Shrewsbury and Gloucestershire before going to Gordano in 1974. He left in 1976 for a tutorial post at Oxford University, staying for six years. Woodhead never returned to the classroom, becoming chief English advisor for Shropshire, then deputy chief education officer for first Devon, then Cornwall.
In 1991 he was appointed deputy chief executive of the National Curriculum Council, then chief executive. He became chief executive of the School Curriculum and Assessment Authority in 1993, and head of Ofsted in 1994.
Woodhead wasted no time in making his mark. He told Mrs Shephard that a teacher appraisal scheme had been almost entirely ignored by schools, hence the number of incompetent staff. Then he ordered a re-inspection of half of the 67 teacher training departments, concerned that Ofsted had failed to detect enough evidence of "trendy" and ineffective training.
By 1996 he was bringing in people with no background in education to head his inspection teams; he also persuaded Mrs Shephard that inspections should take place every six years rather than four, and concentrate on weaker schools.

Chris Woodhead in 1995 (Stephen Lock)
Which schools were weak was a matter of opinion. In 1997 Woodhead overruled his inspectors to declare that Islington Green school was failing and required special measures. Its head at the time later branded the consequences "catastrophic"; exam results had been improving sharply.
Six months into his honeymoon period with Blair, Woodhead said that in some respects Labour's performance was better than the Conservatives'. But he advised that its targets would only be attained if the national curriculum were pared back to concentrate on the three R's.
Woodhead oversaw the extension of Ofsted's remit to cover training for 16 to 19-year-olds and child care. But in November 2000 he resigned – to the jubilation of the unions – to become a columnist for The Daily Telegraph and work for the lobbyists Bell Pottinger.
He revealed that he and Blunkett had been at odds over scrapping LEAs, teacher training and class sizes, and that in frustration he had gone over his head to the prime minister. He later described Labour's education policies as "depressing, narrow and utterly misguided"; he had become fed up with "ministers who talk tough but never have the courage to confront the resistance of the educational establishment".
Woodhead was a special professor at Nottingham University from 1993 to 1995, and in 2002 was appointed Stanley Kalms professor of Education at the University of Buckingham.
From 2004 he chaired the Cognita group, a concern backed by private equity to take over and run independent schools; in his first year it acquired 21. He was knighted in 2011.

Sir Christopher Woodhead in 2012 (Daily Telegraph / Jay Williams)
In 2006 Woodhead was diagnosed with motor neurone disease. Revealing this three years later, he said he would prefer to end his own life: "I am more likely to drive myself in a wheelchair over a cliff in Cornwall than to go to Dignitas and speak to a bearded social worker about my future."
In 2013 he was also diagnosed with cancer and with kidney stones. On the eve of the following year's House of Lords debate on assisted dying, Woodhead said he had considered starving and dehydrating himself to death. But he would rather spend his final hours with his family enjoying good food and wine and listening to Beethoven than travel to the Dignitas centre in Switzerland.
Chris Woodhead married his first wife Cathy in 1969; they were divorced in 1976. He married, secondly, Christine Kensett in 2006.
He is survived by his wife and a daughter of his first marriage.
Sir Christopher Woodhead, born October 20 1946, died June 23 2015
http://www.telegraph.co.uk/news/obituaries/11693238/Sir-Chris-Woodhead-Ofsted-chief-obituary.html
----